Energy Efficient Furnace Replacement
Replacing your old furnace with a new, energy-efficient furnace can help reduce heating costs by up to 45%.  In recent years, heating and cooling technology advancements have led to much more efficient heating systems.  And when it comes to Michigan winters, total comfort throughout the cold season is a must!  Affordable Heating, Cooling & Refrigeration offers the latest in energy efficiency and comfort technology to keep you warm throughout the cold season.  From Chesterfield to Richmond to Fort Gratiot, our new furnace replacement experts are available to assist you for all of your heating needs!
Buy a Coleman Echelon 98% modulating furnace. Save up to 38% on your energy costs!  Buy matching AC and Wifi T-Stat get up to $2000 in rebates and tax credits. Includes lifetime heat exchanger warranty and 10 year parts. Plus we include 2 year labor warranty.
New Furnace Replacement & Installation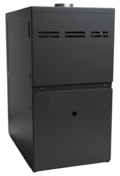 If you're ready to upgrade your heating system or if your old one has stopped working, give us a call at (586) 259-3439 and we'll come out to your home and determine the best solution for your heating needs.  As a full-service heating and air conditioning contractor, you can count on our team of furnace installation experts to get you back up and running.  When it comes to new furnaces, we prefer to install quality furnaces by Coleman and Evcon.  We will work with you to find the best furnace for your home at an affordable rate.  We offer in-home estimates and will carefully spec your new heating system to match your home's needs.  Through the highest quality equipment and expert installation, Affordable Heating, Cooling & Refrigeration will get the most out of your heating system investment.  We offer new furnace financing and payment options.
Reliable Furnace Replacement Contractors - Macomb & St. Clair County
Whether you're building a new home or are looking to replace an old furnace, call the heating & furnace replacement contractor experts to get the job done right.  When installing a new furnace, it's critical that your heating system is installed by a professional furnace company.   At Affordable Heating, Cooling & Refrigeration, our heating technicians have the experience and training to make sure that your new heating system gets installed properly in a timely manner. It's important to hire a professional furnace contractor that can properly size a furnace system for your home's needs.  If it is improperly sized, it won't work as effectively or efficiently as it should leading to your furnace working harder than it needs to. When you hire our team for your furnace installation, you can count on professional service and expert installation to get the job done right from the start - from selecting the right furnace to proper installation.  From Chesterfield to Richmond to Algonac to St. Clair, we are ready to install your next new furnace today!